Metal, Wood, PVC: Choosing the Right Material for Your Digital Business Card
Selecting the right digital business card comes down to a few key factors: your design, the card's material, and its functionality. This article explores these different materials, helping you make an informed decision about your next digital business card.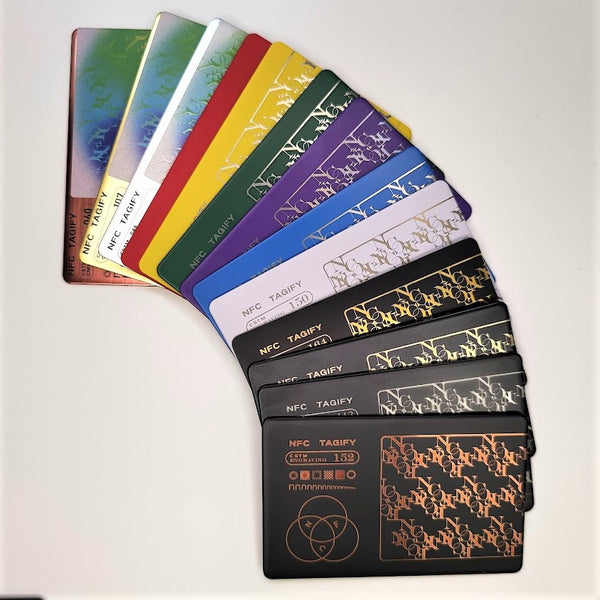 Overview
For those looking for a sleek, premium feel, metal digital business cards offer a sense of luxury and durability that's unmatched. They are particularly suitable for professionals who want to make a lasting impression.
Durability
If longevity is a concern, consider our coated metal cards which are laser engraved on one side and UV printed on the PVC side. Alternatively, full metal cards, which can be laser engraved on both sides, are another exceptionally durable option.
Customization
Metal cards can be customized using laser engraving for monochromatic designs. Hybrid cards offer more versatility, allowing for UV printing on the PVC side.
Eco-Friendly Factor
Metal cards are less eco-friendly compared to their wooden counterparts. However, their durability often means they last longer, reducing the frequency of replacements.
Functionality
Depending on the type, metal cards offer limited to moderate scanning areas, but ensure quick and efficient contactless information transfer.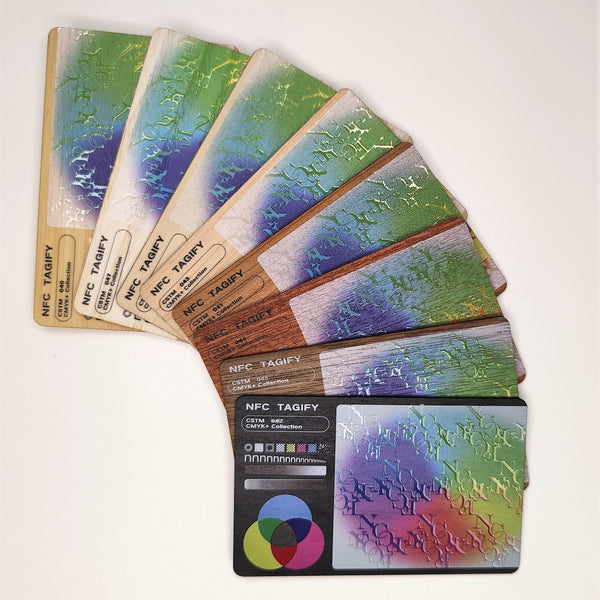 Overview
Wooden digital business cards provide a natural, earthy feel and are the go-to choice for eco-conscious consumers.
Durability
Wooden cards are surprisingly durable, designed to withstand the same everyday wear and tear as traditional business cards.
Customization
With the option for UV printing or laser engraving, wooden cards offer various avenues for artistic expression. UV printing allows full-color designs, while laser engraving creates a unique monochromatic look.
Eco-Friendly Factor
Wooden cards are the most sustainable option, often made from responsibly sourced materials. They are lightweight and can be scanned on both sides, making them an eco-friendly yet functional choice.
Functionality
Offering scanning capabilities on both sides, wooden cards combine both form and function in an eco-friendly package.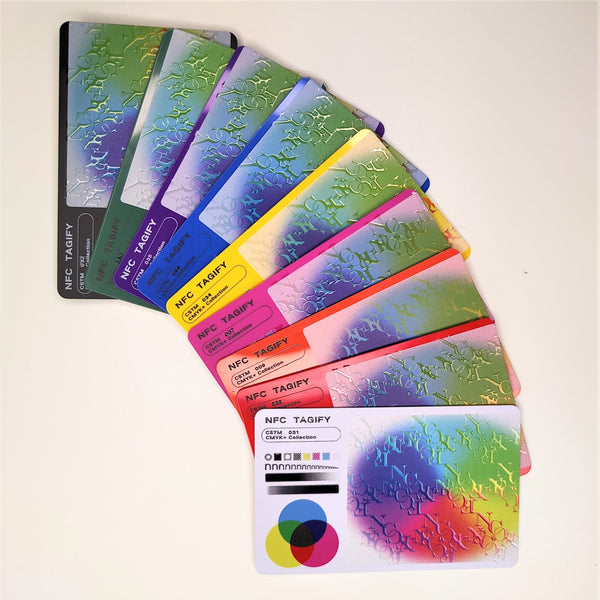 Overview
For a vibrant, budget-friendly option, consider our PVC digital business cards. Designed to impress, these cards offer stunning full-color images and fit easily into any wallet.
Durability
PVC cards are designed to withstand day-to-day handling and are fairly durable, making them an excellent choice for individuals who want a reliable yet cost-effective card.
Customization
Personalize your PVC card with high-quality UV printing that allows for intricate designs and full-color images. With a wide range of colors to choose from, you can even give your card a colored edge for that extra pop.
Eco-Friendly Factor
While traditional PVC is not easily recyclable, we offer a greener alternative—biodegradable PVC. Opt for this environmentally-friendly version if sustainability is a concern for you.
Functionality
PVC cards come with dual-side scanning capabilities, maximizing ease of use. We also offer variations like badge cards that can be used with lanyards, mini cards that can be added to key rings, and sticker cards for more versatile usage.
In Summary
Whether you value design, durability, or eco-friendliness, there's a digital business card material that aligns with your needs. Choose from metal, wood, or PVC based on your design preferences and functional requirements.
Ready to make your choice? Visit our collection and select the perfect material for your smart, contactless digital business card today!